2 Day MTB tour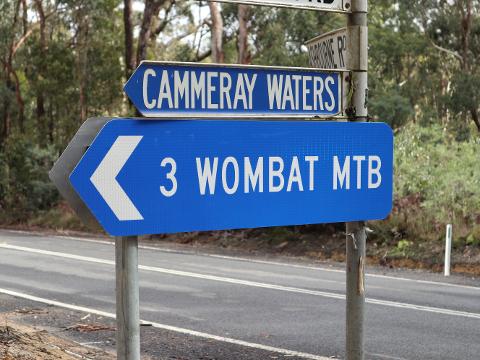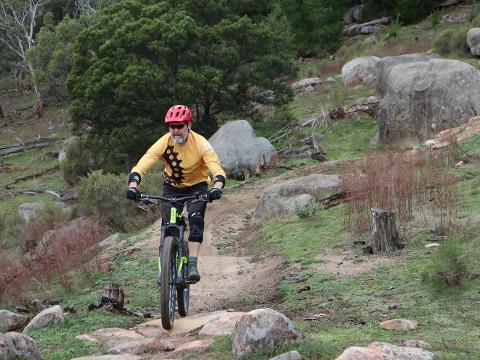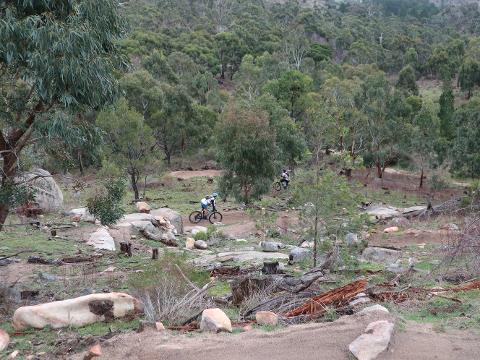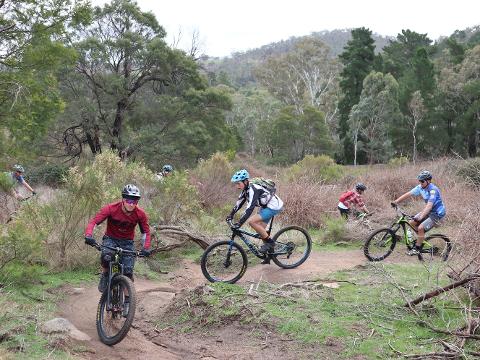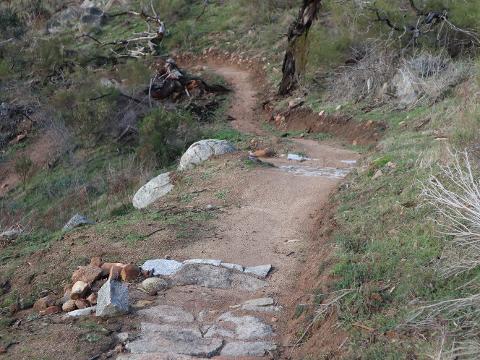 Duration: 2 Days (approx.)
Location: Gisborne, Victoria
Product code: MTB2
The first day see us traveling out of Melbourne to Woodend where the handmade
trails in the Wombat
State Forest will have you weaving through trees on an undulating trail with
plenty of fun and challenging features. This popular, well-established trail
network is 17km long and takes us around 2 hours to complete.
We then lunch at Holgate's Brewery. This for some is the highlight of the day!
This Brewery has an incredible beer range all brewed on-site and the food is
perfect fuel for the afternoon ride. Take it easy tasting any of the beers though
as the best riding is to come!
A 35-minute journey up the Calder highway brings us to the
township of Harcourt
just outside of the gold mining township of Bendigo. Millions of dollars have been poured
into a 34km network of Green, Blue and Black trails although most trails are
for moderate or advanced riders. Built by 'Dirt Art' these groomed trails test
your all of your skills and fitness while delivering big berms, big smiles and
stunning views. We again spend a couple of hours here or for less experienced
groups of riders we can use an easier hand built trails network closer to
Bendigo.
After a memorable first day of riding, it is time to relax.
We make our way into the heart of Bendigo where your accommodation is located.
From this point on you can make your own adventure until the next morning.
Bendigo is a vibrant city with plenty of good eateries, pubs and night spots.
If you don't feel like doing much your surroundings are certainly plush enough
to restore your legs for the next day.
The second day starts with a yummy breakfast at a local
café. However, we do know the most important consumable for any rider is the
coffee and there is plenty of black gold flowing freely.
The riding for this day starts around Bendigo again. There
have been thousands of hours put in by club members to create Andy's trail
network at Spring Hill. The riding here is challenging but without being too
hard. There are no big climbs but there are some very rocky sections to keep
you alert. Once again, 2 hours of riding will hit a decent amount of this maze
of trails.
We make our way to the next great lunch place. Set within
the Mill precinct with a great range of food and craft artisans is Das
Kaffehaus. Seeing as though we are mountain biking – we should eat traditional mountain
food! The menu is fantastic and the coffee even better.
The second riding spot for the day is just outside
Castlemaine. The Bacon trails as they are known are hand built club trails and
an incredible gift from the early pioneers of the sport. Flowing downhill gully
runs, switchback climbs, gnarly rocks and fun drops make this a great ending to
the two days of two-wheeled fun.
Safe in the bush, away from cars, with only the wildlife to
surprise you. You concentrate on the trail, your breathing, dodging the trees,
holes and logs, beating your mate to the top of the hill and taking in the
view.
Sometimes you forget that you are exercising. The adventure
has taken over!
Inclusions....
·
8 hours of guided mountain biking
4 mountain bike trail locations
Lunch at Holgate's Brewery (beer at own risk)
3.5 star Accommodation in Bendigo
Lunch at das Kafehaus, Castlemaine
Bike hire (Giant hardtail with front suspension)
Australian standards approved helmet
Pick up and drop off Melbourne CBD
What to bring…..
Comfortable clothing for exercise
Light jacket
Comfortable footwear
Cycling shoes and pedals if you wish to use them
Water bottle
backpack
We will carry the required gear for simple bike repairs and
general maintenance including spare tubes should you need them. The bikes we
use are well maintained Giant hardtail bikes with front suspension from Woodend
Cycles.
You will be required to sign a waiver to participate.
Mountain biking is an adventurous sport and we expect you will ride within your
limits. We cannot accept responsibility for the decisions you make on the bike.
We advise that you take out travel insurance and/or have ambulance cover in
case something goes wrong. You can never be too careful.
What ANTT will supply for riding…..
Guide
Vehicle
Bike racks/trailer
Tubs for gear
Helmets
Water
Snakes/lollies/sugar
First aid kit
Tools
Cost $600 per person (minimum 4, maximum 8)